We offer fiber optic
installation, repair and maintenance

services for the renewable energy and telecommunications industries
Sentry Electrical Group, Inc. offers fiber optic installation, repair, and testing for the renewable energy and telecommunication sectors.
Sentry crews use state-of-the-art fiber optic splicing, installation, and testing equipment to safely provide our customers with the highest quality fiber optic cable services. From long-haul operations to fiber-to-the-home (FTTH), Sentry reliably connects customers to fiber networks with their turnkey services.
Our employees are certified by Electronics Technicians Association, International (ETA International) to successfully install, splice, test, and certify fiber optic cable solutions, including both coarse wavelength division multiplexing (CWDM) and dense wavelength division multiplexing (DWDM). The head of the Fiber Optic division at Sentry is experienced in fiber optic planning, budgeting, and design, and ensures Sentry's operations for fiber optic installation exceed industry-mandated standards.
We have a complete line of fiber optic diagnostic equipment that produces accurate and timely diagnoses of fiber optic issues to speed repair time and minimize system downtime, while ensuring jobsite and personnel safety.
Our customers include renewable energy prime contractors, owners, and developers, as well as the telecommunications industry.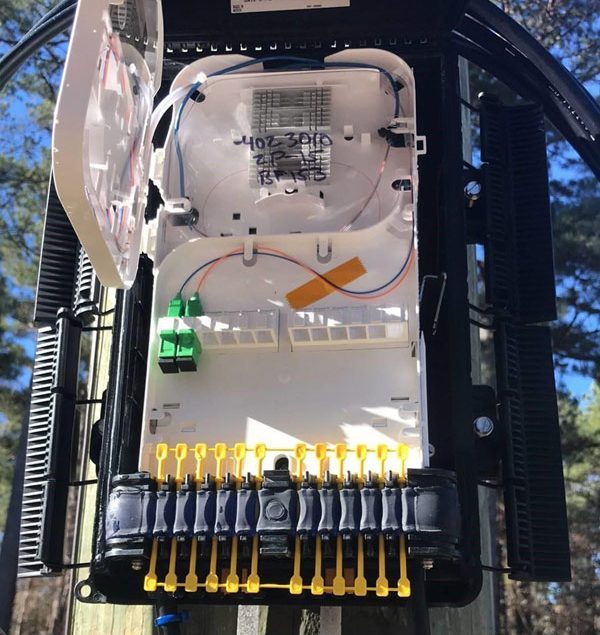 Sentry Electrical offers fiber optic installation, repair, and testing for the renewable energy and telecommunication sectors. Pictured above, Tyco case for fiber to the home (FTTH)
✓Underground fiber optic cables placement
✓Fiber splicing
✓Cable repair
✓Cable maintenance
✓Fiber optic cable plants testing & certification
✓Fiber to the Home (FTTH)
✓Large- and small-scale projects
✓Licensed and trained technicians
✓Safety and Testing standards exceeding federal regulation