Staying Safe While Working At Height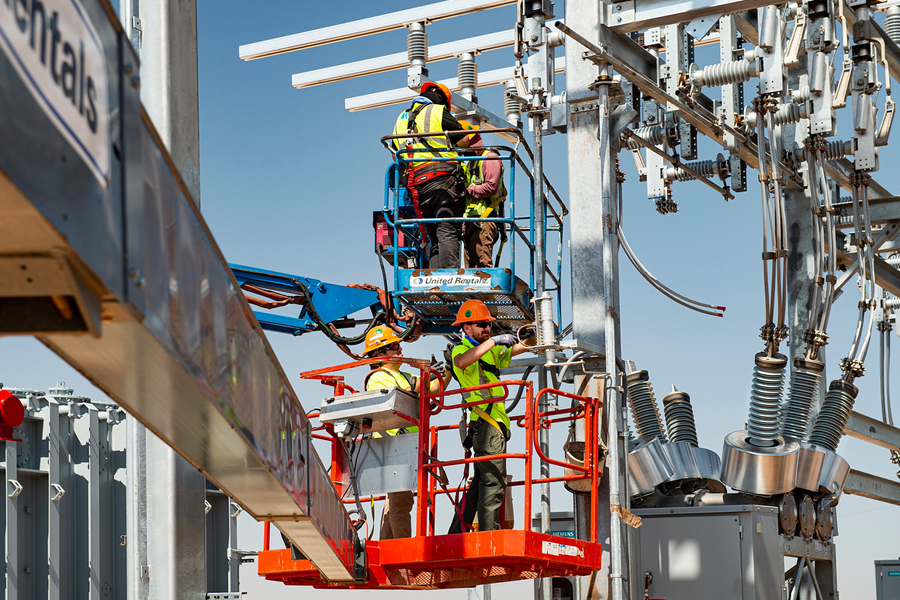 From turbine work, transmission line operations and maintenance, and substation construction, Sentry employees practice safe work while working at height on every renewable energy project.
Of the 1,102 fatal injuries in construction in 2019, 37.9% of them were due to slips, trips, and falls. It's no wonder falls are part of OSHA's Focus Four in Construction – the top four safety hazards in the industry. Renewable energy construction contractor, Sentry Electrical Group, focuses on safety precautions while working at height.
Sentry Electrical Group provides electric power construction services to major utility companies, electric cooperatives, municipalities, engineering firms, prime contractors, owners, developers, and Fortune 100 companies across the United States and into Canada. Their expert renewable energy services range from wind turbine tower wiring, substation construction, battery storage, operations and maintenance, transmission line construction, and emergency response services. These essential tasks require specialized training and a company-wide commitment to safety.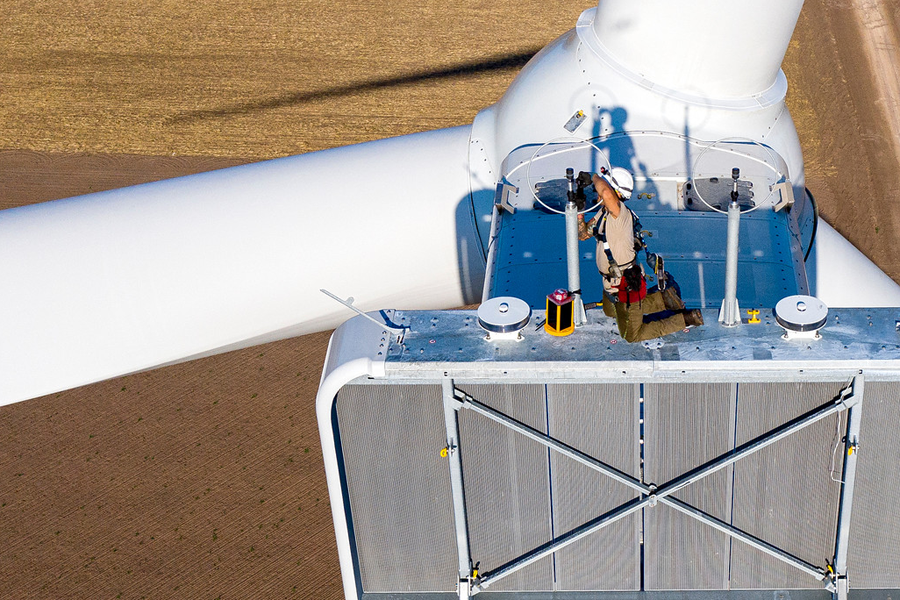 "Sentry doesn't believe in just individual responsibility when it comes to safety," said Safety Director Davis Webb. "We take a team approach. It is the responsibility of each worker to ensure the safety of the entire site. It's who we are. It's how we perform. It's our Family First. Safety Always. mentality."
Working from height does not necessarily mean working atop a 200-foot wind turbine or 40 feet up on a substation project, as Sentry employees often do. Working from height begins when you are just six feet off the ground. It is at this height that additional safety precautions must be taken, such as wearing fall protection. But there are also times when fall protection is even needed when feet are planted on the ground, such as when working around holes, wall openings, ramps, and excavations. Like working at height, these scenarios pose potential fall hazards.
So how does Sentry keep employees safe when the potential to fall is a risk? Preventative safety measures – as identified by both supervisors and workers – are taken. Conventional fall protection systems – including guardrails, safety nets, and personal fall arrest systems and components – protect employees from fall-related injuries. Depending on the work environment, other safety systems are also considered, including warning line systems, controlled access zones, and safety monitoring systems. Additionally, general house-keeping (cleaning and clearing walkways, spills, etc.) is performed, and PPE is appropriately worn.
"The first steps in preventing injuries while working from height are workers completing thorough training programs and having a hazard identification and elimination plan. This plan should be created by a qualified person and include specifics like locations, reasonings, and PPE. It must then be discussed, understood, and performed as a team. We encourage anyone on the team to contribute to these plans and conversations. After all, safety is not successful without a team commitment."
Sentry Electrical Group values the health and safety of everyone on their job sites. Their safety culture is not limited to regulations deemed by management. Rather, it is a team approach that is continually enhanced through interactive safety discussions, Stop Work Responsibility, toolbox talks, job safety analyses, job hazard analyses, and other safety-related tools. These tools, in collaboration with training and comprehensive plans, ensure that all workers are safe while working at height.