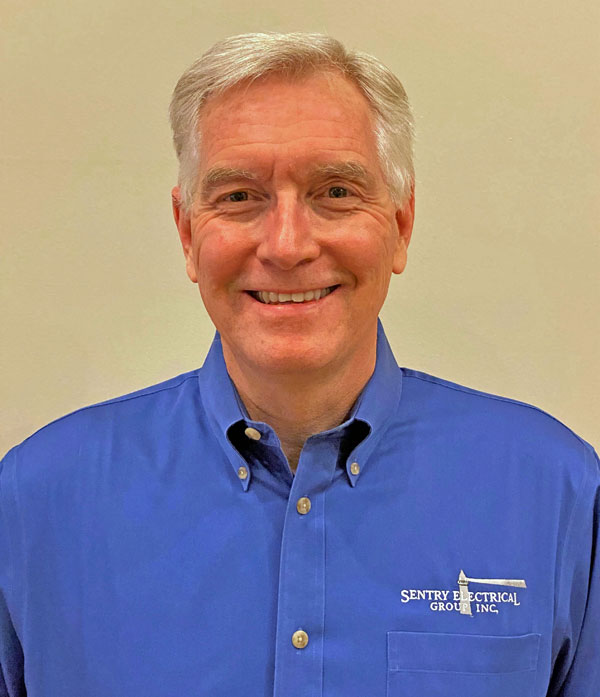 Norm Cowden
President
Mr. Cowden founded Sentry Electrical Group, Inc. in 2006. Since founding the company, Mr. Cowden has held the title of President, but his title hasn't limited him from being involved in every aspect of the business from day-to-day construction and maintenance to long-term project planning and management. Mr. Cowden has worked in the power industry for nearly 35 years. He holds a degree in Mechanical Engineering from Georgia Tech (Georgia Institute of Technology).
In addition to his focus on safety and responsibility, Norm holds strong convictions about supporting his employees from the bottom up. This focus on employee support, performance, and safety ensures the success of all Sentry Electrical Group projects.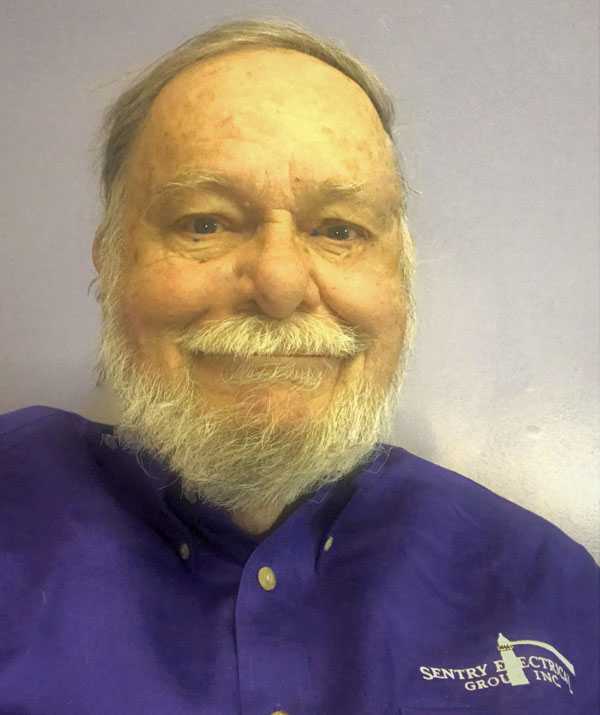 Herm Ashline
Operations Manager and Vice President of Operations
Mr. Herm Ashline joined Sentry Electrical Group in 2006, where he is responsible for overall project operations, including managing manpower, materials, and equipment. Prior to joining the Sentry team, Mr. Ashline spent nearly forty years in the electrical and power industries, holding positions as a Senior Engineer, Chief Operations Officer, and a nuclear fuel process designer with companies including Ashline Associates, UAI Group, and Anderson-Nichols.
Herm brings an impressive five decades of experience and a solid history of safety, technical expertise, and project management skills. He is committed to achieving budget goals and maximizing performance. Herm attended classes at Northeastern University in Boston, MA and is a Licensed Master Electrician.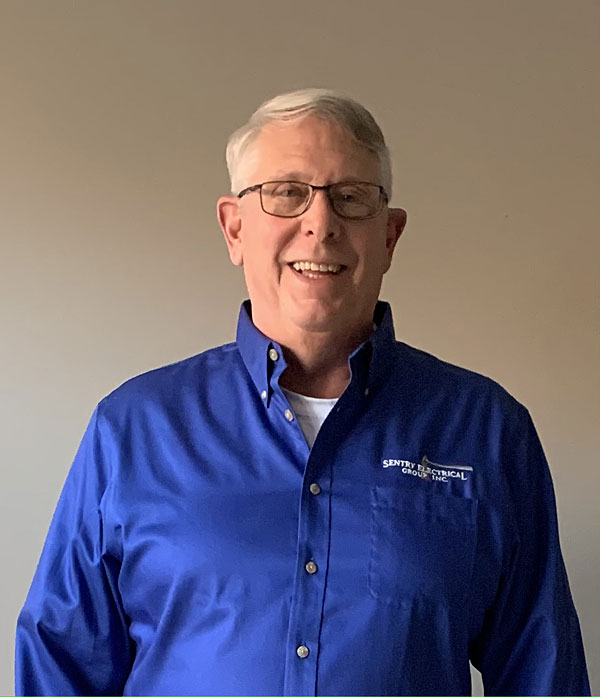 Michael R. Knowles, P.E.
Business Development
Mike has been the director of Business Development since 2012. As the Business Development director, he oversees the expansion of Sentry's electrical construction and management services, as well as the growth of the customer base. Mike's thirty years of experience as an engineer, project manager, and operations manager helps him to seamlessly integrate with the operations, management, safety., and estimating teams at Sentry to ensure the highest quality of customer service.
Mike has a degree in Electrical Engineering from the University of Tennessee, Knoxville and has continuing education courses in power systems and business development. Mr. Knowles previously served on the Board of Directors for The Mining Electrical Maintenance and Safety Association. Prior to joining Sentry, Mike worked with American Electric Power, Signal Wind Energy, Alliant Energy, and Lectrus.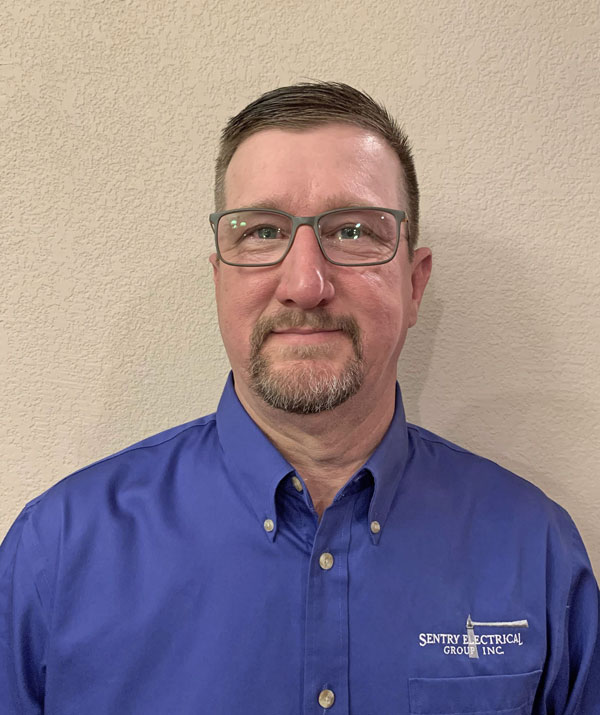 Davis Webb
Safety Division Director
Davis Webb started at Sentry Electrical Group in 2015 as the Safety Division Director. As the safety director, Davis ensures the highest standards of safety training and implementation at Sentry. He brings 15 years of experience to the Sentry team with previous roles as a Regional Safety Supervisor, a regional safety manager, and a safety trainer.
Mr. Webb has completed courses in Engineering at Oklahoma State University and has an AAS in Engineering from Northeastern Oklahoma A&M. He completed an OSHA Train the Trainer Certificate in Safety at Texas A&M and is an authorized tower rescue instructor.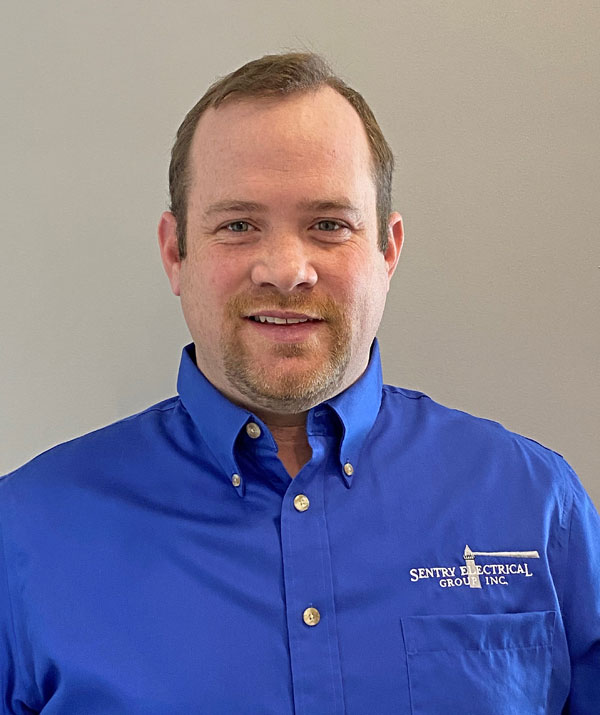 David Hedden
Director Wind Business Unit
David is the director of the Wind Business Unit at Sentry Electrical Group. Prior to becoming the director of the unit, he acted as the Site Foreman for wind projects, bringing a hands-on approach and experience to his current role. David has also worked as a wiring technician on wind turbine projects.
David knows the ins and outs of wind turbine installation from the cable installation and crimping of connectors to directing complex projects and managing personnel, materials, schedule, budget and quality. Mr. Hedden is a certified Tower Rescue Trainer and has completed courses in site safety and OSHA compliance.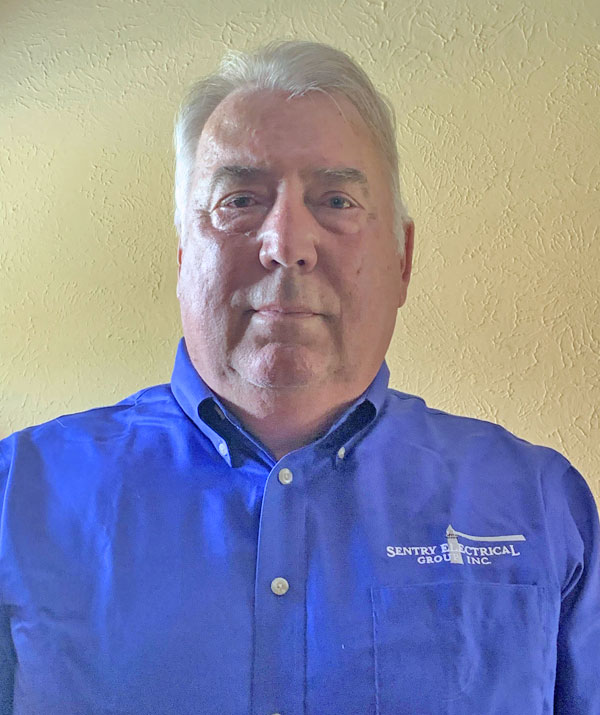 Steve Moore
Director Substation Business Unit
Steve Moore joined the Sentry Electrical Group team in 2013 after spending nearly 25 years working in the energy/power industry in Colorado. As the director of the Substation Business Unit, Mr. Moore manages projects for substations up to and including 345kV. Mr. Moore's commitment to customer service and quality makes him an asset to any project.
Steve has worked for IES Commercial, Western Energy Services of Durango, and Sturgeon Electrical Company. He holds an MBA from the University of Colorado, a BS in Economics and Finance from Regis University, and an ASC in Architecture and Power Line Construction Technology from Northeast Technical College. In addition to his academic record, Mr. Moore has also completed OSHA 10 and 40 hour trainings and is a member of the Colorado Contractors Association, Western Line Constructors, and the National Electrical Contractors Association.
David Scott
Director Transmission Business Unit
Mr. Scott has been with Sentry Electrical Group since 2006 and during his 14 year tenure, he has served as the project manager for the transmission business unit. He provides expert direction to all construction crews working on installation and maintenance of transmission systems. Mr. Scott has twenty years of experience in the construction and electrical industries, with a proven record of site safety and quality assurance.
Mr. Scott is an authorized instructor for Capital Safety Fall Protection, is OSHA certified, and is a licensed residential builder. He has completed coursework and seminars in electronics, business management, and commercial and residential construction. He previously worked for Douglas Electric, in Sugarland, TX and owned his own construction company in Maumelle, AR.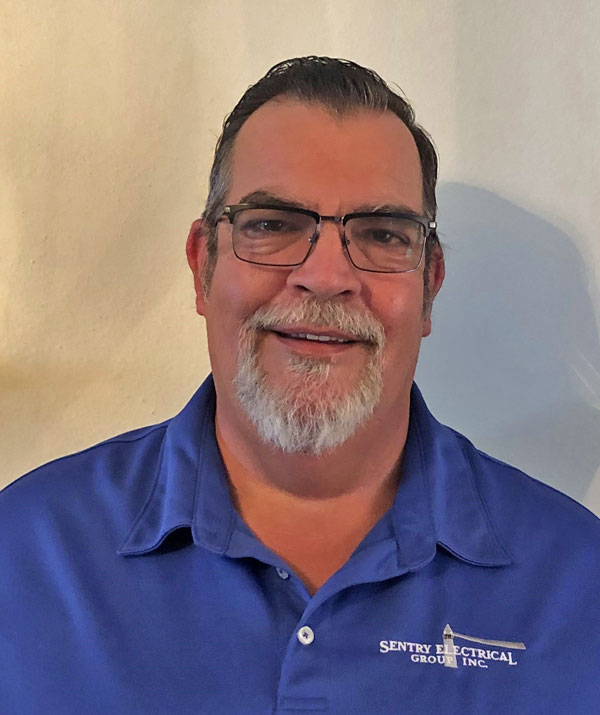 Tim Cordes
Underground Collection System Division Director
As the director of the Underground Collection System Division, Tim Cordes oversees all aspects of underground electrical utility projects including on-site supervision, quality assurance, project planning, and safety and regulatory compliance. Tim manages renewable energy projects and 500kV and below substation/transmission line projects. His previous projects include numerous underground collection installations for large wind farms, a depleted uranium hexafluoride conversion project, and an Air National Guard Jet Fuel Storage Facility for the US Army Corps of Engineers.
Tim completed an apprenticeship with the International Brotherhood of Electrical Workers, OSHA 30-hour training, 20 Hour ET&D training, and NFPA 70E Training and Certification. In the past, Tim has worked with Circle K Corporation, Trans Tech Electric L. P., IBEW, EDP Renewables of North America, and Michels Power. Tim has nearly four decades of experience in the electrical industry, and his impressive experience is an asset to any project.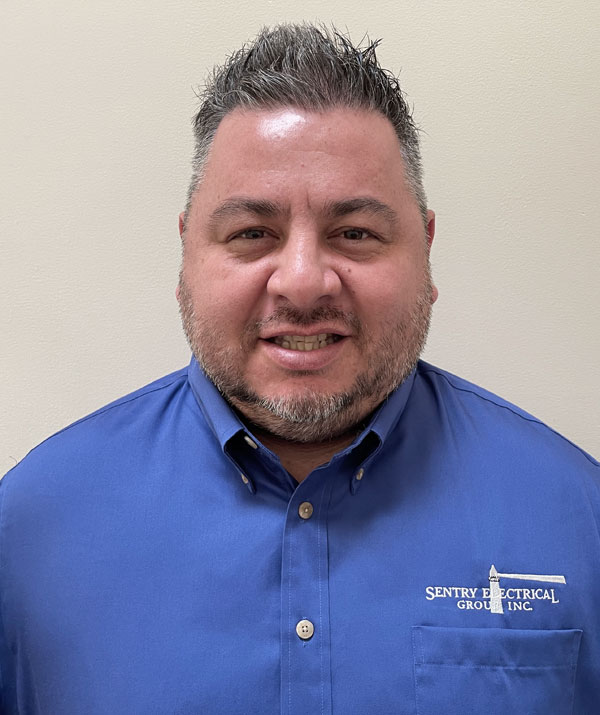 George Tapia
Director O&M Field Services
George joined Sentry Electric Group to lead and build the Operations and Management (O&M) Field Services division. As the leader of the O&M Division, George will oversee the growth of Sentry Electric's O&M offerings as an ISP for the electrical industry. With over a decade of experience, George is ready to serve existing customers as well as new customers such as wind and solar Independent Power Producers (IPP's) and wind turbine Original Equipment Manufacturers (OEM's).
George was a founding member of Axis Renewable Group, Inc. where he led both the North and South American O&M field services operations. Prior to Axis, he was a field technician and field resource manager with Gemini Energy Services. After beginning in field services, he was promoted to director of business development where he created and fostered lasting relationships with industry decision makers. George holds an associate degree in Business, Management, Marketing, and Related Support Services and served as an infantry squad leader in the United States Army for three years.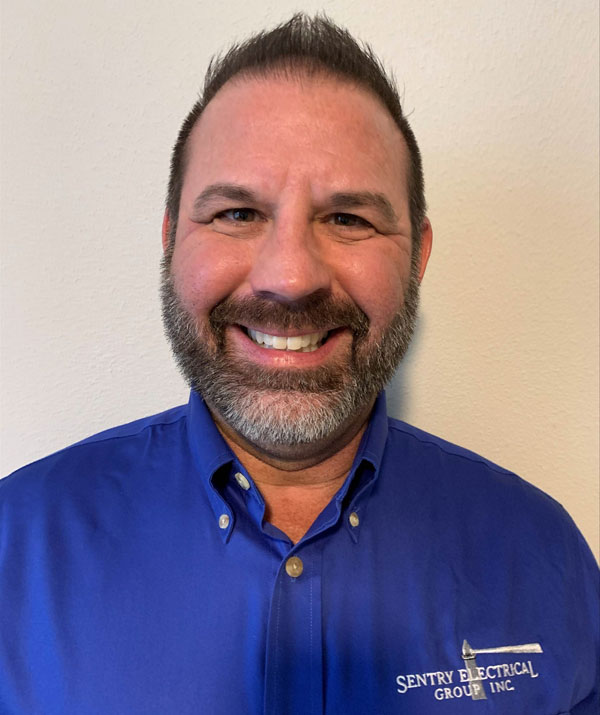 Jim Metheney
Industrial Construction and Automation
As the Division Manager for the Industrial Construction and Automation Division, Jim Metheney brings over 22 years of experience in material handling and industrial automation. Before joining the team with Sentry Electrical Group, Jim was a Project Manager with Schneider Electric Co. and a Senior Supervisor with Honeywell.
Jim has a background in controls engineering and 15 years of large-scale project management in palletizer systems, conveyor systems, robotic palletizing systems, sortation systems, ASRS, pick to light, AGV's, and mini load systems. This experience will help him serve Industrial Construction and Automation customers as he helps to build new material handling service offerings within the division. Jim is a US Navy veteran of the Gulf War and earned his PMP credential in 2012.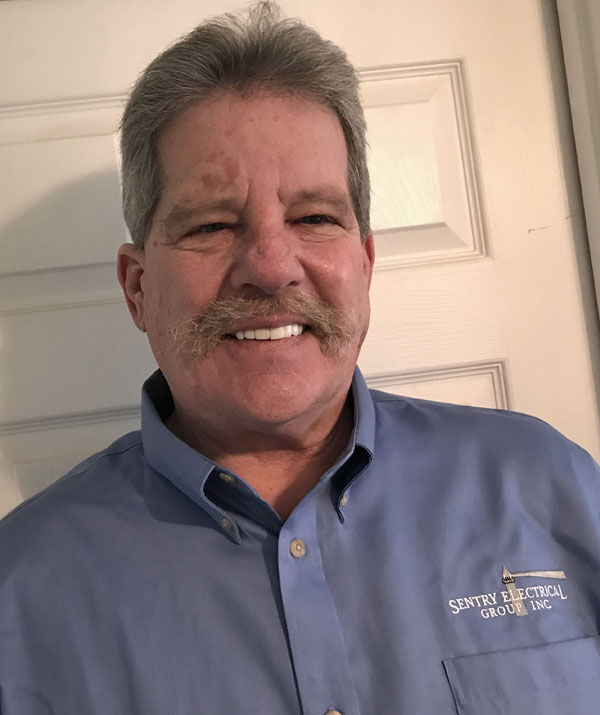 Rick Nowicki
Division Director of Solar EPC Division
Rick Nowicki is the Division Director of Sentry Electrical Group's Solar EPC Division. Rick's four decades of experience in the construction and electrical industries are an asset to Sentry as his division designs and installs utility-scale solar projects across the country.
His experience ranges from work as a lineman to managing the scheduling, costs, service, quality control, and day-to-day operations of large-scale solar projects. Projects include installing collection systems, transmission lines, substation and even battery storage units if required.
Prior to joining the Sentry team, Mr. Nowicki worked with United Grading and Excavating, Mastec-Wanzek, ET Capital, First Solar, and Helix Electric. He is a Master Electrician, Journeyman Carpenter, and holds a bachelor's degree in Electrical Engineering. Mr. Nowicki's extensive education and experience ensure that Solar customers receive the highest-quality project management.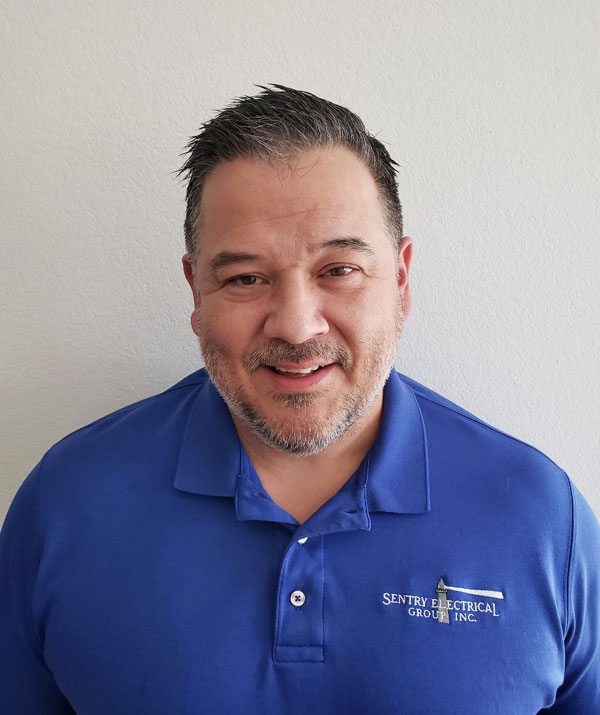 Daniel Tibbitts
Director of the Fiber Optic Services Division
Daniel Tibbitts is an expert in fiber optic network engineering, and as the Director of the Fiber Optic Services Division, his expertise is put to use for customers needing small and large-scale fiber optic installation and maintenance.
Daniel has over a decade of experience installing and managing fiber optic projects and nearly thirty years of experience in the electrical industry at large. Sentry Electrical Group's Fiber Optic group offers services for telecommunication industry as well as the solar and wind installations.
Daniel has worked for Americtech, SBC Data-Comm, Dish Network, WYCO Field Services, Extenet Systems, and ADB Companies. He has worked both as a field technician installing fiber optics and as a project manager and Director for entire Fiber Optic Divisions, giving him hands-on knowledge of the safety and regulatory needs of fiber optic customers.