Sentry Earns Place in Energy Acuity's Top 10 Renewable Energy Companies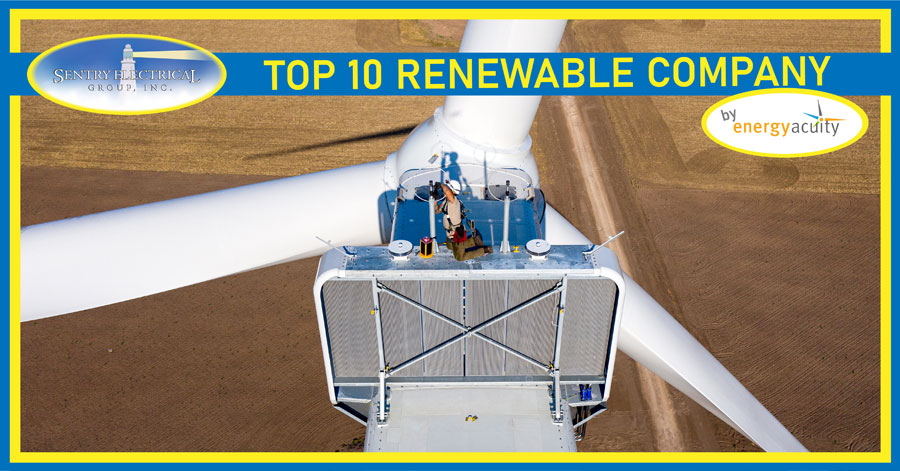 Sentry Electric Group is proud to announce our placement on Energy Acuity's Top 10 Energy EPC Companies in the nation for renewable energy. Energy Acuity has ranked the top ten leaders in power generation and delivery based on their MW capacity in separate categories for renewable and traditional products.
This year, Sentry has completed 55 wiring projects and produced 7,415.05 MW of energy — equivalent to almost 7.5 billion watts of energy. As a Georgia-based company completing projects nationwide, we are proud to be among the elite of the power generation and delivery market. We provide high and medium voltage equipment to private companies as well as electric utilities for expanding their existing facilities. Our services are also requested by private owners or utilities that require high and medium voltage electrical construction and maintenance services.
We are proud of the clients we have served and the work we have accomplished as a tower wiring, repower and repair combined with transmission line and substation construction. Our operations and maintenance division keeps the wind farms in compliance. Our gratitude extends to our hardworking team who continuously focuses on safety, quality and efficiency as well as to our relationships with customers who also believe in our mission of being "committed to providing a safe and healthy workplace for all employees, subcontractors, and visitors."
See more of Sentry Electrical in action by viewing our featured projects here.