Telecommunication Expansion of Sentry Electrical's Fiber Optic Division
After a recent expansion in the first quarter of 2021, the Sentry Electrical Group Fiber Optic Services Division, led by Dan Tibbitts, has continued to ramp up its capabilities and workload for fiber optic projects.
Historically, Sentry Electrical Group has offered fiber optic services for electrical and utility customers. Now, Sentry offers full-service fiber optics installation, repair, and testing for customers in the telecommunications industry too.
The fiber optics division recently wrapped-up a series of successful transmission line projects in Texas, Louisiana, and Georgia. These projects were done in conjunction with the Transmission Services Division of Sentry.
This close internal partnership is unique in the electrical industry as it allows customers to come to Sentry as a "one-stop-shop" for transmission line projects that require OPGW line fiber installation.
In addition to these recently completed transmission projects, the Sentry Fiber Optics Division is ramping up the number of trained crews completing projects in the telecommunications sector. The Fiber Optics Division at Sentry Electrical Group is now able to handle larger, more in depth projects for transmission lines.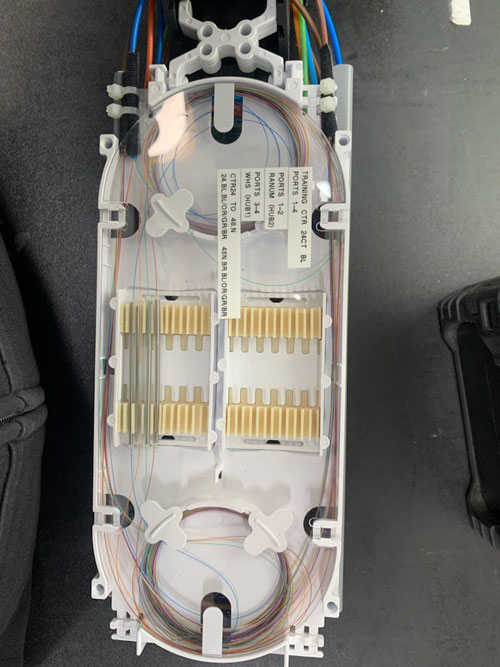 "These new projects are really exciting, because we can provide services a lot of other Fiber Optics companies can't," says Dan Tibbitts. "We have a few new customers, some of the biggest players in the telecom industry, so we have built up a lot of crew capacity to handle these bigger jobs. Just the other week we were blowing 2-miles of fiber, now we are doing 9-miles and longer."
Sentry Electrical Group's Fiber Optics Division offers fiber optic installation, repair, and testing for the renewable energy and telecommunication sectors. To request a quote visit https://sentryelec.com/request-quote/ or call 678-261-7798.
Sentry Electrical Group is a leading electrical contractor for renewable energy, utility, and industrial construction services. Services include tower wiring, tower repower and repair, MV and fiber underground systems, transmission line construction, substation construction, material handling, operations & maintenance, and emergency repairs.